About the Author

Embody Love
My mind has more fun than my body
It's proven by my dreams
Limitless in their expressions
Going anywhere they seem
It seems that only our imagination
Can glimpse the capacity of our mind
Only our imagination
Can touch upon the Divine
To immerse ourselves in Nature
Re-remembering our Higher Selves
Make this life even more worth living
Embodying the beauty of love in this world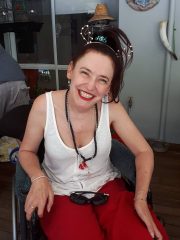 * * *
Health update website
I can't believe it's been so long since my last health update.  I guess I've been working behind the scenes on my healing journey constantly trying new things.
Stem cell therapy trial
November 2015, I was one of 12 people commencing a trial to see if adipose derived stem cells (stem cells from the stomach fat) could be grown into neuronal cells.  We donated our stem cells for the experiment and it was a success.  Now we had to wait for TGA approval for the next stage to go ahead before undergoing the liposuction again; having stem cells derived; cultured into neuronal cells; and then injected into the lumbar to perform its healing magic.
Faecal Microbiota Transplant (FMT)
June 2016, at the Centre of Digestive Diseases in Five Dock Sydney, I commenced the first stages to receive Faecal Microbiota Transplant FMT (the process of transplantation of fecal bacteria from a healthy individual into a recipient).   I had a colonoscopy to see if I qualified.  The doctor said I could very will benefit from the treatment.  However, before taking the next step that would have likely helped me there and then, I stopped when the doctor didn't answer my email as to what I should do next.  I took this as a sign I wasn't meant to receive the treatment, relieved that I wouldn't undergoing such an financial expense.
So instead I persisted with my bodywork healings; taking my herbs; supplements; peptides and Ayurveda medicine.
Epstein Bar Virus (EBV)
January 2017, I commenced reading Anthony Robbins book, 'The Medical Medium' that pinpointed the cause of MS and the remedies that would potentially cure it.  I purchased all the ingredients from iHerb and was very excited as the recommendations resonated with me.  On my long journey of MS, I have been open to many channels of advice and have sometimes received input from controversial sources not ruling out anything when no one had ever offered solid guidance.   Anthony sourced his information from a medical spirit guide that talked in his ear each day… And for MS, the higher source stated that the Epstein Bar Virus EBV was the cause of MS. I had chickenpox when I was seven and the virus stayed inside of me beginning to cause havoc to the myelin sheath surrounding some of my nerves in my early 20s.  I had long believed chickenpox was the start of my 'problem-to-be-solved' and avidly commenced the program, immediately experiencing the benefits by sleeping through the night…
I improved in the first few months of the year with straightened fingers and increased dexterity in my hands.  I was also no longer struggling in the usual humidity and heat of summer and autumn.
Trying the Western approach
July 2017, I had been waiting a year and a half for the stem cell trial I was a guinea pig for in Sydney to commence.  But the trial still wasn't going ahead so I realised I needed to take matters in my own hands again and try the Western approach by seeing a new neurologist my friend told me about. At the appointment with Doctor John Parrott at Royal North Shore Hospital, it was affirmed that although I was surprisingly physically strong in my arms; had great flexibility in my hips and knees; as well as great sensory response all over my body and feet, I didn't qualify for the new drug people were having good results with.  To qualify, people need to take more steps than me as the potential side effects were too great a risk if the drug wasn't going to do enough for me.
That's when I burst into tears of both disappointment as well as relief not to qualify, having never wanted to put such strong drugs into my body in order to get better.  In tears, I expressed to the doctor as well as to those in the room including Mum and Dad.
'Shows how desperate I've become even considering taking drugs, because I can't imagine going through another January, February, March, April, and May, without help.'
Nothing anyone could say, of course, but the neurologist asked me to come back the following year as development was happening with progressive MS.  He gave me a prescription for Fampyra, a non-toxic medication – to help in my hands and transfers, which it did almost as soon as I commenced taking them, although the effects waned after a few weeks.  So essentially, I was back to square one on my healing search.
Medicinal Marijuana Oil
Next came the reintroduction of marijuana in my life.  It had been seven years since I smoked marijuana and the cessation improved my lungs but I declined physically.  It took me seven years to allow it back into my body psychologically because I wanted my body to be clear of it after smoking it so long.  But my MS worsened without it and fortunately Marijuana Oil had become more available.  I commenced taking the oil in October 2017 and have continued consuming it with overall great improvement via intermittent softness in my hands and legs, increased movement at times and enhanced well-being.  Aside from the enhanced well-being, the physical benefits currently still fluctuate, but I certainly know I'm better on it than off it.
FMT 
On October 30 2018 I reignited my determination to heal and heal on a grand level.  I reembarked on the Faecal Microbiota Transplant FMT healing track, a procedure that is aimed at taking three months to complete. But for me – 6 months later – I have continued the treatment of infusing my digestive system with the flora from multiple healthy donors, and now personal donors.  My body has become much stronger, more supple, flexible, with increased motor skills and resilience.  I feel the cause of MS in my body has been addressed and am building my body from the foundation up. I now know with all of my being that I've always had parasites in my gut disrupting my immune system.
I feel much better than I have for two decades, 'normal' even.   The only drawback is that I feel I should be back interacting the physical world again, but because of the built-up damage to my system that inhibits my walking ability; full function of my arms, hands and fingers; as well as my balance, I cannot re-enter it yet.  I now dream of stem cell therapy, and pray Australia begins allowing people to have 'the right to try.'  Instead of waiting for Australia, I aspire to work towards potentially liberating treatments explained below:
Umbilical cord stem cell therapy and Embryonic stem cell therapy
Australia is so behind on the stem cell therapy front because trials aren't being done here to give evidence that it works.  All that exists is an intensive stem cell therapy (HSCT) involving chemotherapy, for people who are in early stages of MS. The result brings about full recovery in most people.  Unlike most countries in the world, Australia hasn't taken on umbilical cord stem cell therapy; embryonic cell stem therapy; bone marrow derived stem cell therapy; or even adipose derived stem cell therapy to help people at any stage of MS because they haven't experimented here to know if it works well enough.
But the decision-makers who decide when to commence offering a wider range of treatments to treat certain immune and inflammatory conditions, including MS, aren't in a rush because they have no idea what it's like to experience the quality of life that is enhanced after stem cell therapy… even if the recipient doesn't come out of it as a fully functioning on the physical level.  I know how I felt after my two adipose derived stem cell therapies in 2014 and 2015… And, that was stem cells derived from my own fat.  At my age, the amount of stem cells has dramatically declined and after half my life of having MS, I need the most powerful stem cell therapy possible, which is umbilical cord and embryonic stem cell therapy brimming with the most powerfully regenerating stem cells.
Stem Cell Links:
Oh Cure
Searching for a cure shouldn't be so hard to do
Oh cure oh cure I do pursue you
I've sought you for a long time, I've looked for you for years
Never allowing my tears to turn into fears
Of never finding you, of you not turning up
Of you being the empty of a half full cup
I've meditated on you at sunset, I built fires for you at dawn
I've yearned for you endlessly, but still come away forlorn
The magical ingredients must be in my hands
To guide me to the mystery found in some far-off land
Or could you be closer, the cure I pursue
Just let it be known I'd do anything for you
* * *
 Nanna's Last Wish
Dying at home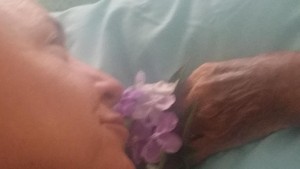 If the one last impassioned wish of your loved one is to die at home, then I wholeheartedly recommend you do everything in your power to make it happen. If the doctor says there is nothing more they can do, then do everything you can to get your loved one home. My 96-year-old Nanna fearlessly acknowledged that there was nothing more they could do for her, and said, 'take me home where I belong'. Nan's mantra in her last few days in hospital was, 'I want to go home' … forming the word 'home' on her lips as if it were the most sacred place in the world. Days were lost in the process of getting her home because the hospital system doesn't seem to have an effective communication system between the physio, the OT, the palliative care nurse, the social worker, and the doctor… all butting heads at different times and none of them had any idea of what is available in the community to support dying loved ones at home: A palliative care nurse visits every day; a community nurse visits every day; personal care workers are available; 48 hours of palliative care is available to everyone; and the loving presence of family and friends surrounds the loved one.
Luckily, I have first-hand knowledge of what's available in the community, as well as an ideal set up at home… And Nanna had just been awarded a 'My Aged Care' package… So precious time shouldn't have been lost in getting Nanna out to have the superior loving care she would never have received in hospital.
But, two and a half days were wasted with my Nanna touchingly chanting, 'I want to go home,' and she was finally released thanks to my dear friend who works in the hospital, speaking with and then putting me in touch with the right person to discharge Nanna, as soon as I provided the services and support we'd put into place.
When Nanna finally got home and laid in her bed, she exclaimed, 'This is heaven!' And over the next nine days, while enveloped in the wings of her loved ones, Nanna surrendered so gracefully, beautifully, courageously and peacefully to the ultimate transition all of us must take… It was an honour to witness and share… Nanna did it perfectly and paved the ideal way all of us could take graduating into the Great Unknown…
'70% of people want to die at home, only 14% of people achieve it.' ~ 'Dying well'. Article:  Dying Well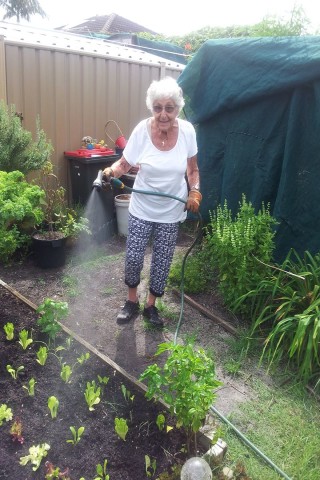 Nanna
Although your presence has left our eyes
Your essence now fills our reflective skies
When we contemplate the beauty of your life
A life you lived so fully in your steady stride
The impact of you being has been so great
96 years of living we celebrate
Although never enough time to share our love
Each moment was a blessing especially when we rose above
The trials and tribulations that come with living
Precious Nanna you were oh so very giving
Nothing was too much with your words, 'we'll get there'
Thank you forever for your care
May our energies merge in whatever comes
We're only a breath away when it's all said and done
The in-breath and out-breath fuels the living
The final out-breath is the one
When our energies might go swimming
* * * * *
Author and poet Suzie Palmer, from Australia, is considered by many to be a true inspiration, with her work appearing in numerous international publications.  Suzie's recently published poetry book is called, Bright Blessings.   Her first published poetry, Loving All, was followed by Prosperity Rat, an illustrated book of haiku.  Her writings have also appeared in the Adventures in Manifesting series.   Suzie also writes literary analyses, forewords and performs edits for international authors.
Come Fly With Me, a collection of Suzie's stories for children, led to several invitations to give presentations at schools and motivational talks at workplaces.  Suzie performs her poetry at events, usually accompanied by live musicians and has recorded her poetry to music on two CDs: Inner Bright Blessings and Global Bright Blessings.  She is currently writing her autobiography, Agony – A Path to Bliss, while generally working for world peace, love, and humanity.
Suzie is honoured to be a founding member and ambassador of Global Village Forum (GVF), promoting love, peace and tolerance around the world.
* * *
My most recent writing piece for a book:
Enjoyed writing this piece A Modern Day Zarathustra for Andrei Aleksandrovich Azsacra's book's: Symbol of Nothing to Power … Please click here to read.
* * *