Books
Welcome to this section containing Suzie's work thus far… She trusts her writings will touch your hearts and uplift you on your own journey in this colourful lifetime of trials and many challenges… it's because of her physical challenge that any of these works exist… so in that light, Suzie feels greatly blessed…
The following workss have manifested alongside the unfolding of Suzie's autobiography, which still in process… the first 100 pages and installments thereon can be found in Suzie's autobiography section.
Bright Blessings
Bright Blessings is a pleasingly large poetry book bursting with colour and life, to fill your heart. Within its pages the poems reach inside your soul, discerning our oneness with all, our love, our humanity and our creative propensity. A natural successor to Loving All – Suzie's first poetry book, Bright Blessings is a collection of poems penned throughout her journey over four years. The poems are included here in chronological order, allowing you to travel with Suzie and share in her growth ~ spiritually, mentally and emotionally, gaining a unique insight into the poet's true nature. A philosophical bite of love and joy, Bright Blessings is a book to enrich all walks of life…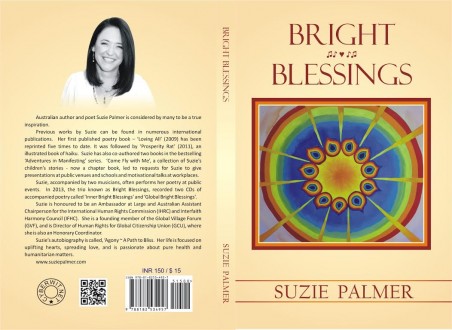 Global Bright Blessings and Inner Bright Blessings CDs
Global Bright Blessings and Inner Bright Blessings are the outcome of years of performing Suzie's poetry at numerous community events with Greg Cole on guitar and Mike Glover on drum.  Together these CDs cover some of the many poems in her two poetry books, and celebrate their musical creations to fly freely into your heart _/|\_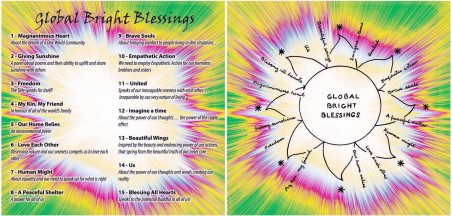 Loving All
Loving All is Suzie's first collection of favourite poems.  Each poem has been written with great love, and bursts with Suzie's enthusiasm to unite humanity.  She calls on each of us, her brothers, and sisters, to see ourselves as one huge family, a family always there for each other, because we are one another.  She reminds of our inseparable essence, our true individuality—which is actually indivisible, and asks us to uplift and embrace our wider family into our hearts and lives…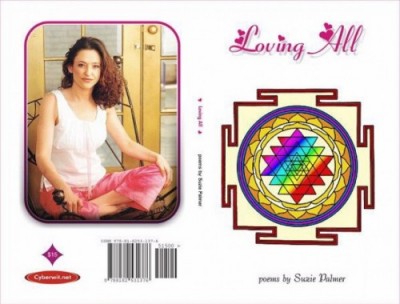 Prosperity Rat
Prosperity Rat was inspired by Suzie's relationship with a rat named Gorgeous.  The work was translated into Japanese by internationally acclaimed Haiku poet, Ban'ya Natsuishi.  With exquisite sumi-e illustrations by Janice Bostok otherwise known as 'Grandmother Haiku', this edition limited to one hundred signed and numbered copies are collector's items…

Adventures in Manifesting ~ Health and Happiness
Suzie's amazing adventure begins in the most unlikely place…inside the four walls of a specialist room defying a medical diagnosis with the potential to ruin her life.  Instead of savouring the dish-full of false no-hope routinely offered to those sitting on the 'wrong' side of the desk, Suzie channels her energies into searching for solutions to her newly-developed 'problem'. Thinking outside the prognosis square was cutting edge January 1995 for a recently-turned 24-year-old.
Though so young, Suzie believes she is a spiritual being having a human experience and her intuition takes her on a journey to become whole again emotionally, mentally, and spiritually in order to heal physically.  Efforts to embody herself completely for the first time, on every level, rarely lead Suzie to conventional doors.
Magic happens for Suzie on her healing crusade and I Am That I Am reveals the mysticism she experiences along the way as well as great blessings…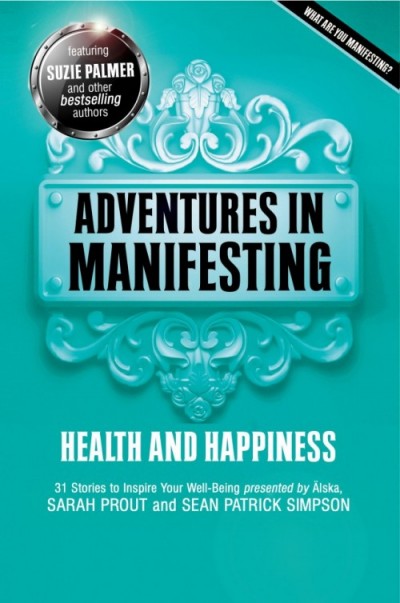 Adventures in Manifesting ~ Healing From Within
All of Me delves further into the amazing healing journey Suzie's shares in I Am That I Am in Adventures in Manifesting ~ Health and Happiness.  This chapter explores the seemingly impossible climb we all must take when wishing to heal on the innermost level… a wish often desired only after reaching rock bottom and arriving at the liberating state of 'sick of being sick'.
For Suzie 'rock bottom' comes sixteen years into her physical challenge.  The delay to plunge into her healing 100% was attributed, paradoxically, by the sense of security she obtained from spiritual teachings and the forecasts of healing that had nourished her.   Finally awake and prepared for the challenge, Suzie wasn't going to let any idleness be to her peril… And there begins Suzie her real exploration of healing from within.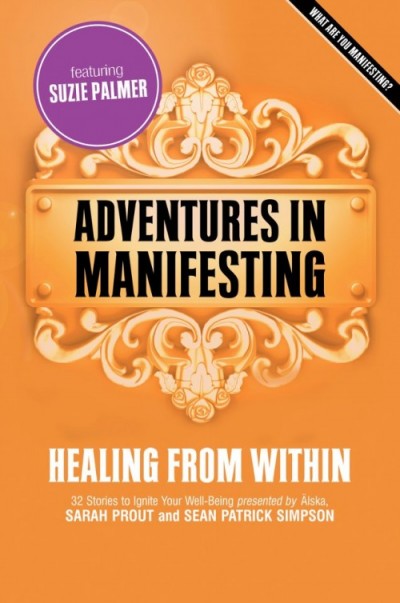 * * *
Other Publications detail forewords for international authors Suzie has written; literary analyses of poetry books; as well as some of the various books Suzie's poetry is published within.