Other Publications etc
June 2015 Taj Mahal
~ Includes two of my poems and ten haiku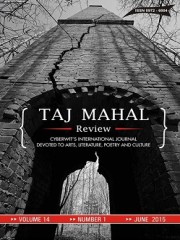 * * *
World Haiku 2015: No. 11
532 Haiku in 30 languages by 204 Poets from 44 Countries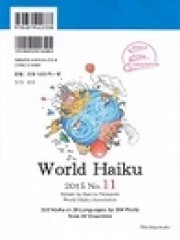 * * *
Jan 2015 Harvest of the New Millennium ~
~ Includes two of my poems and ten haiku
* * *
December 2014 Taj Mahal
~ Includes two of my poems and ten haiku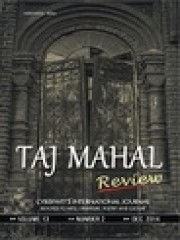 * * *
June 2014 Taj Mahal
~ Includes two of my poems and ten haiku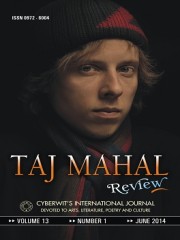 * * *
World Haiku 2014: No. 10
553 Haiku in 30 languages by 188 Poets from 40 Countries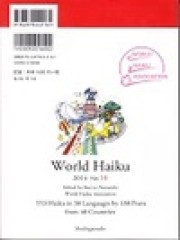 * * *
Jan 2014 Harvest of the New Millennium ~
~ Includes two of my poems and ten haiku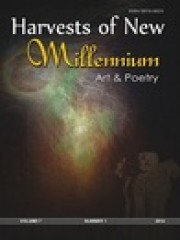 * * *
December 2013 Taj Mahal
~ Includes two of my poems and ten haiku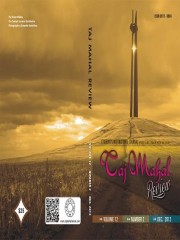 * * *
World Haiku 2013: No. 9
518 Haiku by 181 poets from 35 countries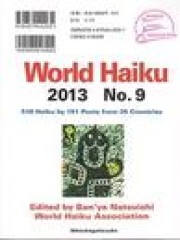 * * *
Jan 2013 Harvest of the New Millennium ~
~ Includes two of my poems and ten haiku

Click to Purchase:  Harvest of the Millennium 2013

* * *
A World Rediscovered (An Anthology of Contemporary Verse)  ~ 2012
~ Includes two of my poems and ten haiku
For more details or to purchase please visit: Cyberwit
* * *
Dec 2012 Taj Mahal
Accepted by The Peace Palace, the Hague, the Netherlands!
~  Includes two of my poems and ten haiku
For more details or to purchase please visit: Cyberwit
*  *  *
June 2012 Taj Mahal
~ Includes two of my poems and ten haiku
For more details or to purchase please visit: Cyberwit
*  *  *
Jan 2012 Harvest of the New Millenium
~ Includes two of my poems and ten haiku
* * *
  Click to Purchase:  Harvest of the Millennium 2012
*  *  *
World Haiku 2012: No. 8
* * *
As well as being one of the translation and editing staff, i have haiku included among 151 poets from 37 countries… and my Haiku Essay was choosen to be among four other Haiku Criticisms from around the world!
To read mine please click here:  Haiku Essay
Click to Purchase:  World Haiku 2012 No. 8
*  *  *
Ginyu No. 51
i have haiku poems in this Ginyu called One Tree
Click to Purchase: Ginyu No. 51

*  *  *
WHA Anthology 2011
The 2nd Tokyo Poetry Festival & the 6th World Haiku Association Conference
World Haiku Association Anthology 2011
I was one of seven international poets to write a greeting message!
~ And, was one of the translation staff…
Click to Purchase:  WHA Anthology 2011

*  *  *
 Dec 2011 Taj Mahal
~ Includes two of my poems and ten haiku
For more details or to purchase please visit: Cyberwit
* * *
August 2011, i wrote the Foreword for THE UNSPOKEN THOUGHTS by
Akanksha Chaudhary
Click here to read: Foreword

*  *  *
June 2011, i wrote the Foreword for ROOTED IN CABBAGETOWN by Canadian Poet Barbara E Mercer.
For details and to purchase please visit:
Cyberwit
*  *  *
Early 2011, i wrote a 'critical article revealing emotional depth' in Azsacra Zarathustra's compositions in
Symbol of Nothing to Power.
For details and to purchase please visit:
Cyberwit

*  *  *
I have also contributed 10 haiku and four poems into each of the following publications:
June 2010 Taj      Dec 2010 Taj           June 2011Taj               Jan 2011 Harvest
*  *  *
My Critics and Poems appear in the following books:
The Haiku of Sayumi Kamakura: A Critical Study  (English and Japanese Edition)
For more details or to purchase please visit: Cyberwit
A Crown of Roses (Haiku Collection)
Sayumi Kamakura was born in Kochi Prefecture, Japan, 1953. She began composing haiku while a student at Saitama University and studied haiku under the guidance of Toshiro Nomura and Sho Hayashi. In 1988, she won the Oki Sango Prize. The lyrical style of her haiku attracted attention, and in 1998 she established the haiku magazine "Ginyu" with Ban'ya Natsuishi, and has been its Editor since that time. She has attended international haiku or poetry festivals held in Japan, Slovenia, Portugal and Bulgaria. In 2001, she won the Modern Haiku Association Prize. Her published haiku collections include: Jun (Moisture, 1984), Mizu no Jujika (Water Cross, 1987), Tenmado kara (From the Skylight, 1992), Kamakura Sayumi Kushu (Haiku of Sayumi Kamakura, 1998). Hashireba haru(Run to Spring, 2001), She co-authored Gendai Haiku Panorama (1994), Gendai Haiku Handbook (1995), Gendai Haiku Shusei Zen 1 Kan (Contemporary Haiku Anthology in One Volume, 1996), etc. She also published, in both Japanese and English, A Singing Blue: 50 Selected Haiku (2000). Her haiku has been translated into English, Greek, Russian, Bulgarian, Portuguese and Korean. She is a member and Treasurer of the World Haiku Association. Santosh Kumar Editor


For more details or to purchase please visit: Cyberwit
*  *  *
Harvests of New Millennium
Welcome! A very Happy New Year! Welcome to the  Harvests of New Millennium 2010! I hope you will enjoy these  poems, haiku,  book reviews, photography and visual art by both emerging and famous international poets and artists. It is a multicultural journal of literary and visual art. An increasingly large number of poets and artists submitted work for this issue. I offer my sincere thanks for your interest in Harvests of New Millennium. Our mission is to promote and focus on the best creative writing and artwork. This issue includes Art, poems, haiku, Book Review and several other interesting things. Harvests of  New Millennium is doing its best to promote understanding and enjoyment of literature and artwork. The best thing about artwork is that there are no language barriers. "Art is an international language, understood by all  (Igor Babailov)." …
While selecting Haiku, I had in my mind Ezra Pound's brilliant observation that Image should  present an intellectual and emotional complex in an instant of time. Due to entirely different phonetic system, 5-7-5 syllables should not be mandatory for writing haiku in English. The most significant thing is to develop "haiku eyes" to write natural and spontaneous haiku. I humbly hope you will find the poems, haiku and artwork satisfying. I'm grateful to the artists for their cooperation and help in bringing out this issue. Publishing creative works by so many voices and so many cultures is a happy experience for myself.  SANTOSH KUMAR Editor
For more details or to purchase please visit: Cyberwit
* * *
VOLUME 8 NUMBER 2 DECEMBER 2009
Happy New Year! TMR is open to new authors, painters and photographers. For publication in Taj Mahal Review, it is our ardent aim and desire to seek the poetry by Noble laureates, or by newly emerging (even previously unpublished poets). James Joyce rightly says, "Every age must look for its sanction to its poetry and philosophy, for in these the human mind, as it looks backward or forward, attains to an eternal state". We have published sixteen volumes till now, about 7000 pages, and over 3,000 poets, short story writers, haiku poets, literary essays, reviews, paintings and photographs. I tried my best to select the most impressive poetry, short story and artwork revealing diversity in excellence.

For more details or to  purchase, please visit:
Cyberwit

 *  *  *
~ Wrote a literary analysis of Ban'ya Natsuishi's work in the following book:
Edited by: Dr. Santosh Kumar  Binding: Paperback (pp: 124) ISBN: 978-81-8253-149-9 Availability: In Stock (Ships within 1 to 2 days) Publisher: Cyberwit.net Pub. Date: 2009 Condition: New Description: This is a full-scale critical analysis of the haiku world of Ban'ya Natsuishi – its philosophy, symbolic language, chief tenets based on his haiku collections, and written by eminent authors in the field. The book, well organized and beautifully written, is a pioneer effort, unrivaled and indispensable to understand Ban'ya as a poet. The Poetic Achievement of Ban'ya Natsuishi consists of sixteen critical essays on Ban'ya Natsuishi. The book is a comprehensive study of Ban'ya's poetry. The maturity of the essays included in The Poetic Achievement of Ban'ya Natusishi is striking. They are well written with an independent, inquiring spirit free from narrow critical doctrines. The concise discussions of the principal works of Ban'ya, written by subject experts and foremost critics in the haiku field from around the world, provide insightful critical analysis, valuable for students and professors alike. No doubt, the book will enable us to delve more deeply than ever into Ban'ya's work.
Karunesh Kumar Agarwal was very much interested in publishing a critical book on Ban'ya, one of the greatest Japanese haiku poets, whose extraordinary genius elevated the haiku to an art form of unusual beauty. He worked to contact several renowned haiku poets and critics for critical essays revealing Ban'ya's classic journey of poetic self-discovery. This arduous task was very aptly done by him, and it is a special joy for Karunesh and myself to bring this book to life.
Previously called hokku, haiku was given its current name by the Japanese writer Masaoka Shiki at the end of the 19th century. "A haiku is the expression of a temporary enlightenment, in which we see into the life of things" ( Reginald Horace Blyth). Traditional haiku poets like Basho, Buson and Issa used haiku to express their feelings of Zen. The increasing popularity of haiku is evident by its influence on Ezra Pound. The impact of haiku on Pound is clearly visible in his poem "In a Station of the Metro":
The apparition of these faces in the crowd;
 Petals on a wet, black bough.
Different critical articles included in The Poetic Achievement of Ban'ya Natsuishi emphasize that Ban'ya is the most widely admired haiku poet. Ban'ya in his haiku is concentrating on 'distillation of a moment". There seems to be an obvious increase of critical interest in Ban'ya's haiku poetry in light of the controversy which surrounds Flying Pope, a landmark in Haiku literature. Who is Flying Pope? On this point a whole book needs to be written. The fact is that Flying Pope is a poetic mask to comprehend reality beneath its surface. The critical essays included in The Poetic Achievement of Ban'ya Natsuishi explore Ban'ya's most elusive flavor in the genre of three unrhymed lines and "free-form" haiku. The greatness of Ban'ya as a haiku poet is due to the simple truth that he made the genre immediately accessible to wider audiences. I am deeply thankful and very grateful to Adam D. Powell, azSacra zaRathustra, Floriana Hall, Joseph S. Spence, Sr., Lynn Strongin, Magdalena Dale, Max Verhart, Patricia Prime, Paul Pfleuger, Jr., Petar Tchouhov, Rhoda Galgiani, Sayumi Kamakura, Suzie Palmer, Vasile Moldovan and Valentin Nicoliþov.
The Poetic Achievement of Ban'ya Natsuishiis the first full-length critical analysis of Ban'ya's contribution as a haiku poet. The book presents contemporary responses to Ban'ya's work, and I hope this will be immensely beneficial to students, researchers and haiku composers. The critics included in The Poetic Achievement of Ban'ya Natsuishi have paid commendable attention to the structure, thematic development in his haiku and innovative imagery. As a result, I trust we will now have a greater understanding of philosophical and psychological depths, complexity and originality of Ban'ya's poetry.  Santosh Kumar
For more details or to  purchase, please visit:
* * *